Maine – The Lighthouse State
Maine is known as "The Lighthouse State" for good reasons! By the turn of the 20th century, at least 70 lighthouses guarded its craggy seacoast, its deepest rivers and even one lake. A mariner could sail up and down the coast and always have a lighthouse in sight. Sixty-five of these beacons still stand. There are more lighthouses here than in any other states but Michigan and New York, and more coastal lighthouses than anywhere in the nation! Maine is a great place to see the distinctive towers and explore their rich history. Use our lighthouse itinerary to get the most out of your beach experience: Lighthouse Tour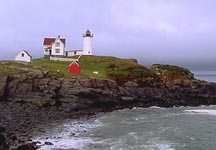 Nubble Light
Cape Neddick (York), Maine – In 1874, President President Rutherford B. Hayes granted $15,000 to build on this "Nub" of land in Maine after citizens petitioned for a lighthouse. It stands on the National Register of Historic Places and it's light and horn are maintained by the Coast Guard.  The park has a welcome station and public restrooms (8am to 8pm). On a clear day the Isles of Shoals Light can be seen to the south and Boon Island about 7 miles to the east. Nubble light is approximately 20 minutes from the Wells Ogunquit Resort.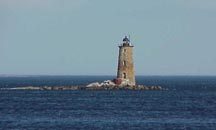 Whaleback Light

Kittery, Maine- A light has been shining from this rocky outpost since 1820, and early in it's life the lighthouse had to be rebuilt several times. For $20,000 in 1872 the tower we see today was erected. In 1991 the fog horn volume was turned down, as it was damaging the building. Whaleback Light had a lighthouse keeper until the 1960's.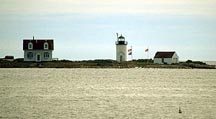 Goat Island Light

Cape Porpoise, Maine- Originally built in 1835 and updated in 1859 with a brick tower seen today. Goat Island light was built to guard the enterence to the Cape Porpoise Harbor and is still in use today, although it became automated in 1990. The Kennebunk Conservation Trust leases the lower buildings and can be seen from the shore off of Route 9.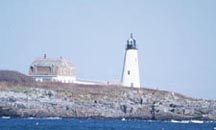 Wood Island Light,

Biddeford Pool, Maine- First built in 1808, Wood Island Light had a series of misfortune and rebuilds to get the buildings and structures there today. In 1873, the bell was worn from the damp, salty air and was replaced by one made in 'bell-metal'. Before the keepers knew what to do with the old one, a massive storm battered the old bell off the lawn and into the sea. It was later rescued by the lighthouse keepers and is now safely at Vine's Landing in Biddeford Pool. This lighthouse is open for tours.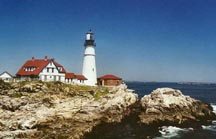 Portland Head Light
Cape Elizabeth, Maine- Keeping Portland Harbor safe for ships since 1791, the original structure was paid for with $750 from the state of Massachusettes (which Maine was still part of) and $1,500 from the Federal government. This lighthouse boasts a bit of a ghost story, of a woman on her way to Boston to get her wedding dress drowning in a shipwreck just offshore on Christmas Eve. Portland Head Light shares a home with Fort Williams, a fantastic walking, swimming and picnic area for families.
Two Lights

Cape Elizabeth, Maine- Now a state park, Two Lights got it's name from twin lighthouses, the eastern one being 17 miles offshore. The western light was sold and is now a private home. Art buffs may recognize one of the towers as the subject of Edward Hoppers 'Lighthouse at Two Lights". Spend the day on the trails and beach and bring a picnic lunch!
Plan your vacation today and book with us.