How Close Are We To Wells, Ogunquit and Moody Beach?
We are located in the center of the best beaches in New England!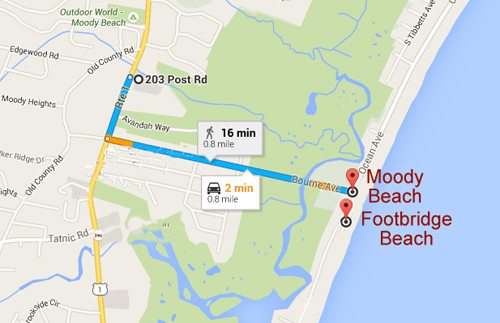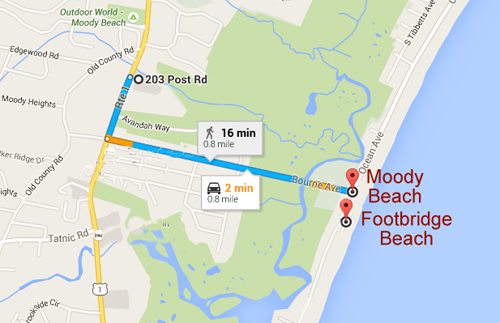 Click this link for maps and directions to other area beaches. When you see the map, click "BEACHES" as the attraction type in the upper left menu.
Ogunquit & Moody Beach We are about a 3/4 mile walk (2 minute car ride) to the gorgeous Moody/Ogunquit Beach. The Main Ogunquit Beach, Footbridge Beach and Moody Beach are each sections of the 2 mile stretch of "The Ogunquit Beach".  The Town of Ogunquit charges for parking during the day, however there is no charge after 8:00 at the Moody & Footbridge Beach Parking Lots.  The Ogunquit Trolley services The Main Beach & Footbridge and stops to pick up guests 3/4mit away from the Motel.
Wells Beach Free all day!  Great beach for kids! Take a right out of driveway onto US RT 1  North, continue 1 mile to the second light by  McDonalds and turn right onto Mile Road and follow to its end at the Public Parking Lot (in front of Lafayette's Oceanfront Beach Resort).
Wells Jetty Beach & Drakes Island Both are a 5 minute car ride or about 12 minute bicycle ride.  Beach Parking at the end of Mile road is free and a fee is charged to cover the cost for lifeguard protection and beach cleaning at the Wells Beach Lot and the jetty at Drakes Island. Additional parking is also located at the end of Atlantic Avenue and on Mile Road.  Rates are $30.00 for a full day for parking on Mile road (lot on the left before the end), Atlantic Ave and Drakes Island Jetty. There is no charge after 6:00p.m.
Wells Harbor A superb spot for families with young children! Take RT 1 North through 4 traffic lights and turn right immediately after the Fire Department. Parking is always free and there are free concerts on Saturday nights in July and August! Here you can watch the lobster and fishing boats come and go, rent kayaks and paddle boards (or put in your own!), enjoy a picnic lunch on the covered picnic tables and let the kids play on the playground.
Kennebunk, Kennebunkport and Parson's Beaches All three are about 15 minutes north. Turn right out of the Motel driveway onto US RT 1 Travel north of the Motel for approximately 4 miles to the Maine Diner & Bull N Claw Restaurants,  bear to the right on to RT. 9 You can visit these three beaches or visit the quaint seaport of Kennebunkport. Parking at the Kennebunk beaches is $35 daily.
York Beach A short 15 minutes South of the Motel you'll find Short Sands and Long Sands beach. Pass through Ogunquit and follow US RT. 1 until you see a sign for RT. 1A.  Follow RT. 1A and you will find the lovely town of York and its beautiful beaches: Short Sands and Long Sands. Parking for York Beaches is metered, $4/hour.